Back in Australia in 2008 Verena and I were not yet married, did not yet have our two rascals and did not yet pay the installments of our family home in a suburb of Kassel. Quite naive we decided to visit two very good friends in Australia.  Kathrin had "stuck" with Dean on her work-and-travel trip in Perth and had now, after years of long-distance relationships, permanently chosen the latter model in the models "Dean in Germany" and "Kathrin in Perth". Four weeks time, what should we do? Dean as "local" advised us to take a camper tour up the West Coast. So far, we hadn't come up with the idea of renting a camper for no particular reason. A Wicked-Camper named "Deluxe-Slammer" became our travel vehicle. More than 200.000km on the speedometer, decorated with graffiti and a very rude saying on the tailgate – let's go – yeah! Left-hand traffic, oh dear!
In three weeks we experienced the best holiday – ever. We stopped with our vehicle in the most incredible places. Red earth, deserted areas, long beaches, exciting contacts. We were enthusiastic. The freedom to just follow our nose and let ourselves drift, this ideal had inspired us.
In the following years we explored Europe with several rented campers and another time Australia (this time the east coast). But we always had to drive to a big city to get to our camper. Why don't we have such a thing here? You'd have to do it yourself… I'm sure it works. 2014 then job cancelled, concept written, three buses bought and rebuilt – trara – the Kleine Freiheit campers entered the Kassel holiday stage.
The rental quickly grew to five campers, we won a nationwide business plan competition and started a crowdfounding. In many of our customers we met people who shared our passion. To own a camper was a dream for most of them. "Pure luxury", "Standing around for half the year", "Much too expensive" the conversation was. Florian was then the first Sponsor Camper. He invested his money in a Kleine Freiheit Camper and we rented his bus, with success. The bus ran cost-neutral and even made a profit. And the rest of the time Florian explored Europe with his girlfriend Jules. Marianne joined them, Marcella, Christian and Paula too. Everyone has become a face of Kleine Freiheit Camper – we are many now!
We share the resource camper to use the vehicles more sustainably. With the income we make it possible for others and us to travel in the camper. Renting a Kleine Freiheit Camper is not just about renting a car – we create encounters and individual experiences.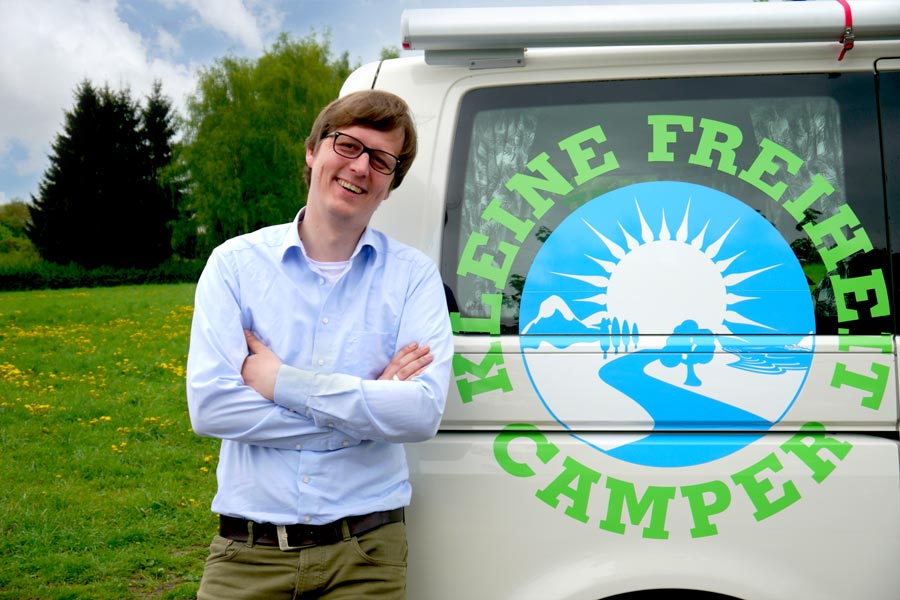 Jan Lietzmann
Founder of the Kleine Freiheit Camper